New Bern Market Place
May 15, 2018
This project is a complete site development for a Harris Teeter Shopping Center.  Demolition of existing buildings, asphalt and concrete curb & gutter.  Abandon existing utilities, site clearing and grubbing, all erosion control, dug detention ponds, install modular block retaining walls, installed the storm drain, water and sewer infrastructure, curb & gutter and paving.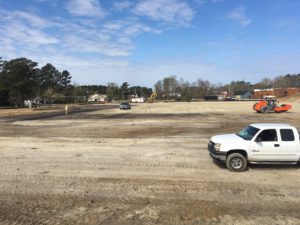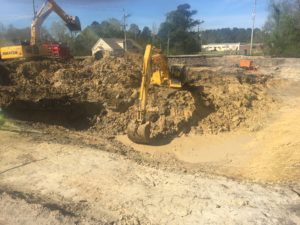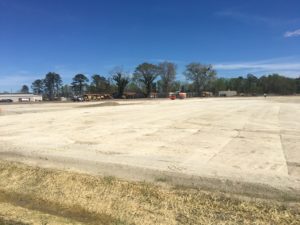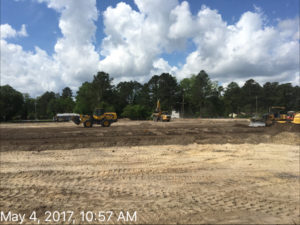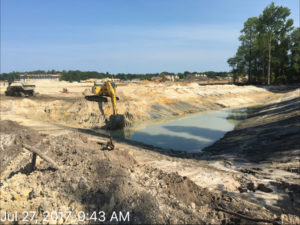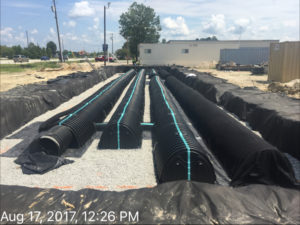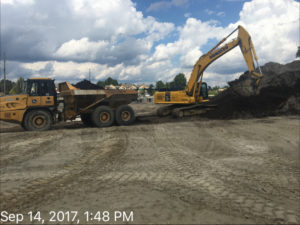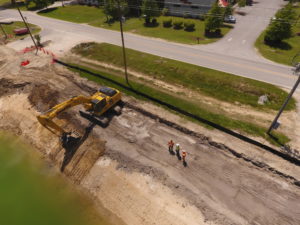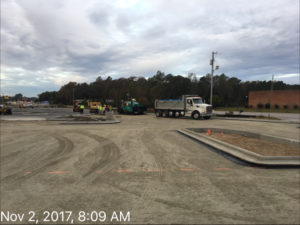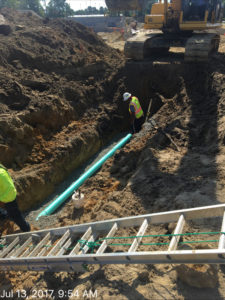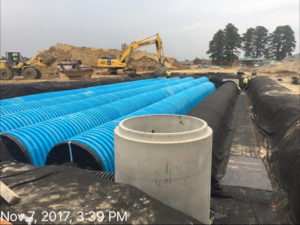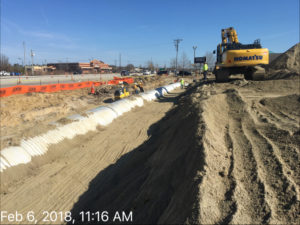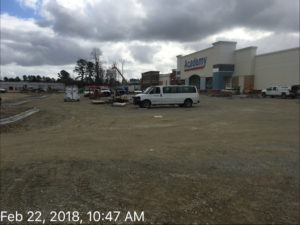 ---
New Hanover Regional Medical Center Parking Deck
March 19, 2018
Our scope of work on this project consisted of demolition of existing parking lot asphalt and curb and gutter. Installing new storm drain, water and sewer infrastructure. Installing new curb and gutter and asphalt.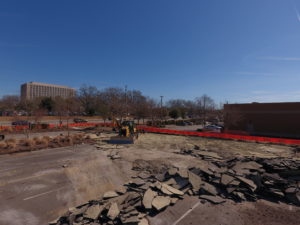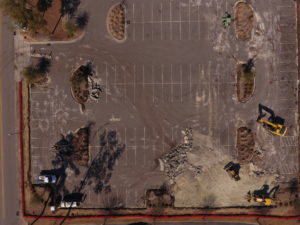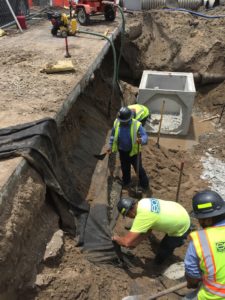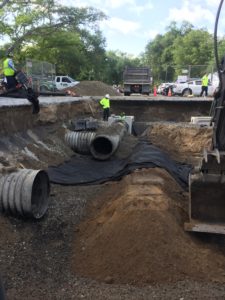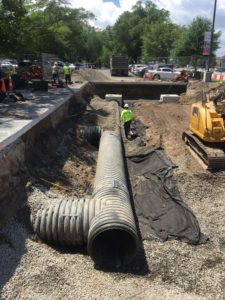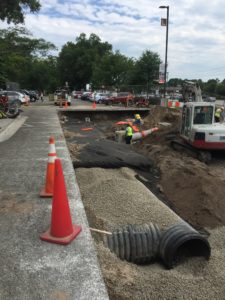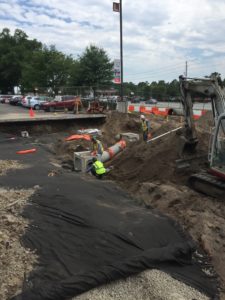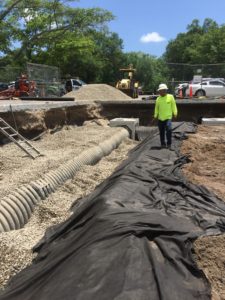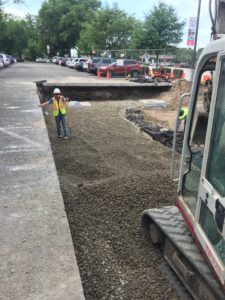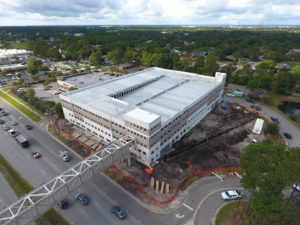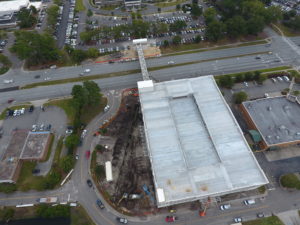 ---
Edgewater Pump Station
Our scope on this project included, Clearing, Grading and Excavating, Sewage Lift Station System Installation and all Construction Site Development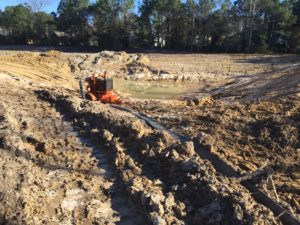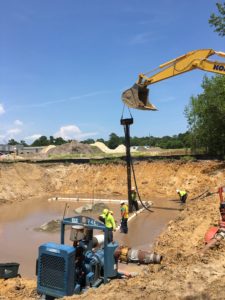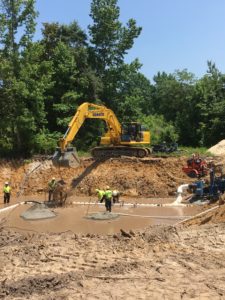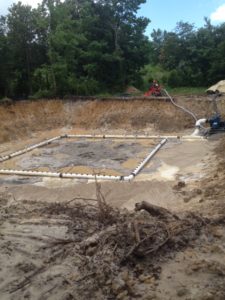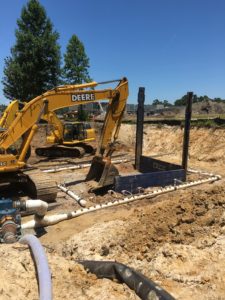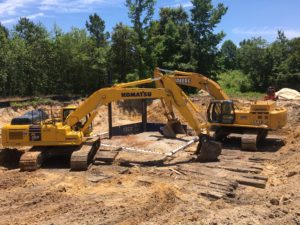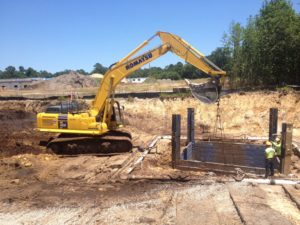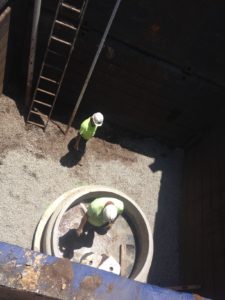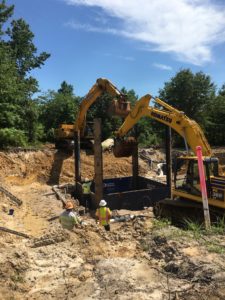 ---
Sawmill Pointe Apartments – 1015 Nutt St., Wilmington
July 20, 2016
Demolition, Grading, Storm Drain, Roof Leaders, Sanitary Sewer, Water, Curb & Gutter, Asphalt and Concrete Paving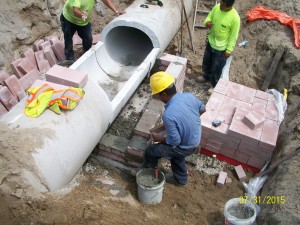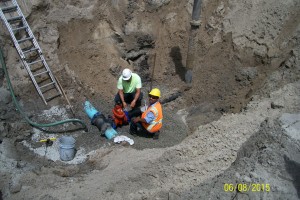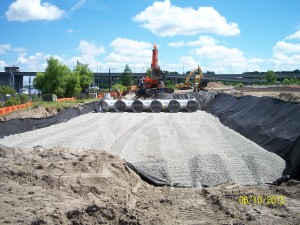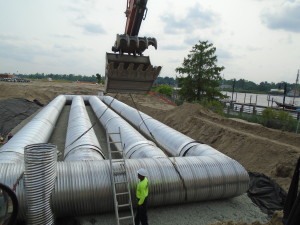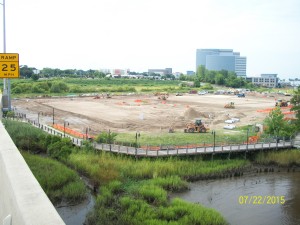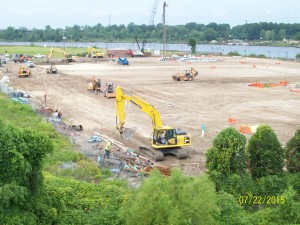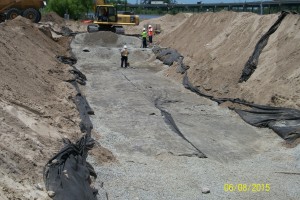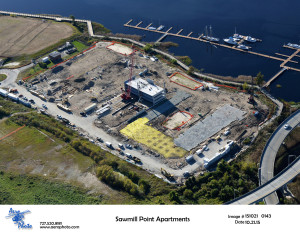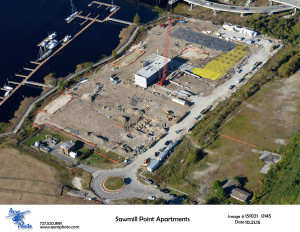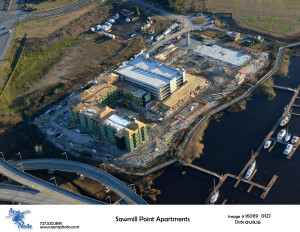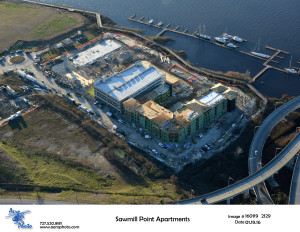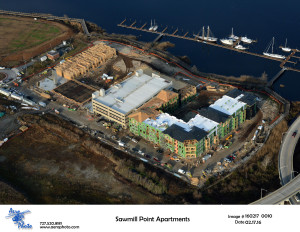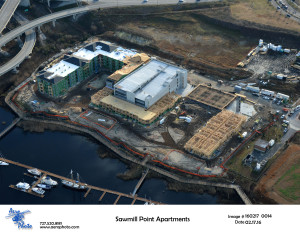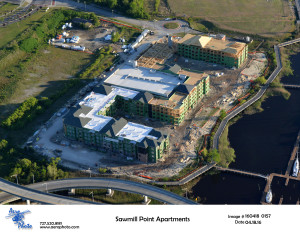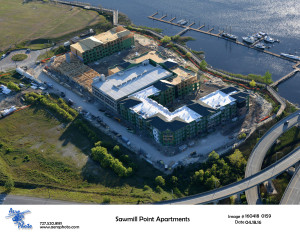 ---
Pumpkin Creek – 4320 Blue Clay Rd., Wilmington – Complete Site Development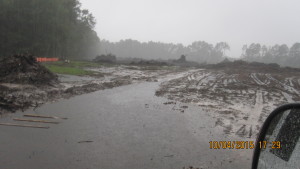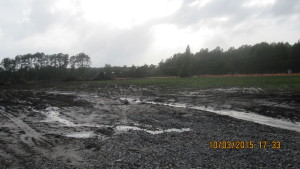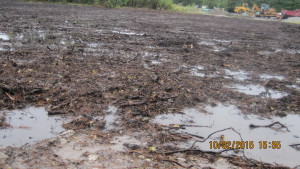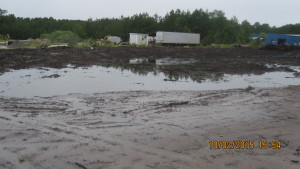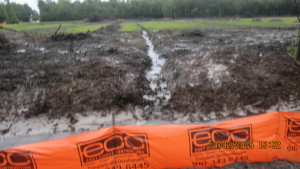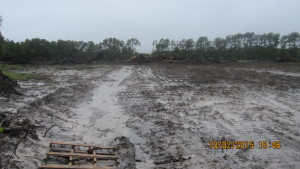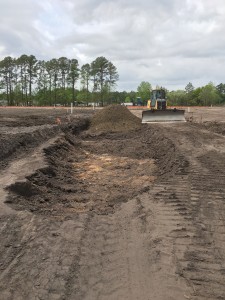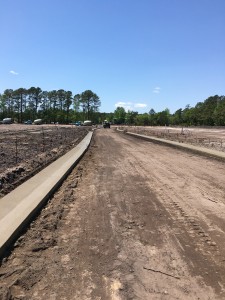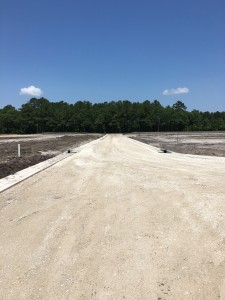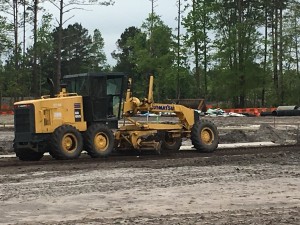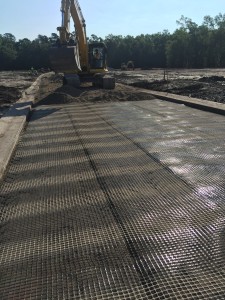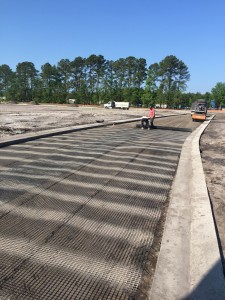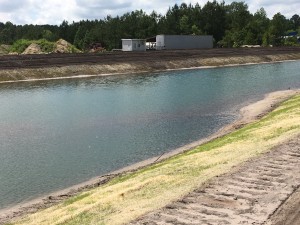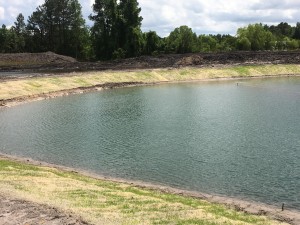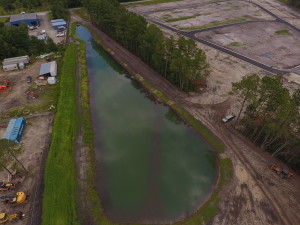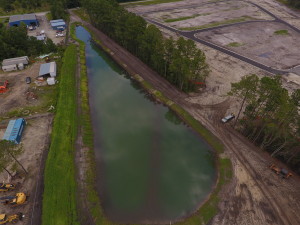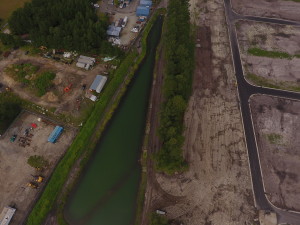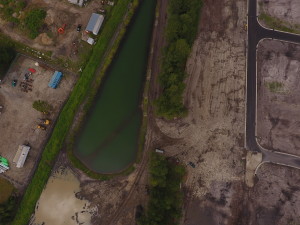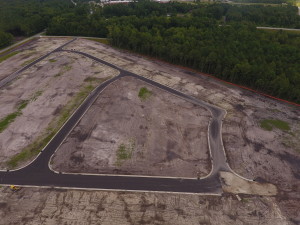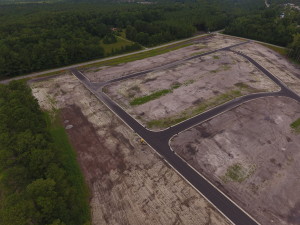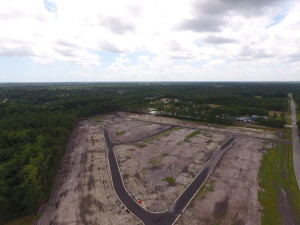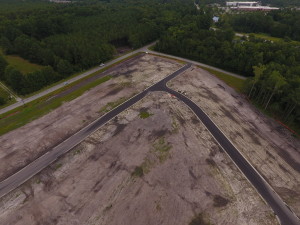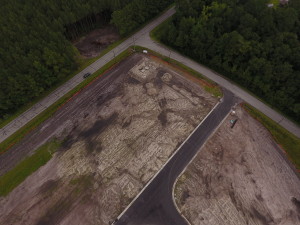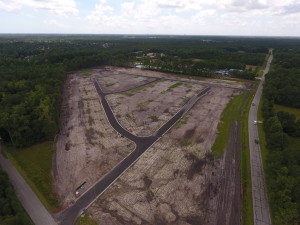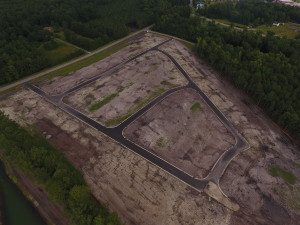 ---
Jefferson Landing (Brunswick Forest)
June 12, 2016
Jefferson Landing, now known as Brunswick Forest located in Leland in Brunswick County. Our work included water and sewer installation with over 12,000 lf of sewer installed in depths at times greater than 20'.
---
---
Tidal Walk
Tidal Walk is located on Myrtle Grove Rd. in New Hanover County. Our work included water, sewer and storm drain installation with over 9,000 lf of gravity sewer installed in depths at times greater than 20' and over 8,700 lf of force main sewer. Jack and Bore and Directional Bore methods were used in some of the installations.
---
---
Woodlake @ Lord's Creek
Woodlake @ Lord's Creek is located off of River Road in New Hanover County. Our work there consisted of complete site development, water, sewer and storm drain installations. We installed more than 11,000 lf of gravity sewer at times in depths greater than 30'.
---
---
North Campus Regional Lift Station
North Campus Regional Lift Station is located in New Hanover County. This project is the construction of 990 LF of 10 inch gravity sewer, 3,250 LF of 12 inch gravity sewer, 1,305 LF of 14 inch gravity sewer, 980 LF of 24" gravity sewer, 1,550 LF of parallel 12 inch and 18 inch force mains, a 728 GPM pumping station with 20' x 25' Cast In Place Wet Well, Electrical building, all weather access road, site work and SCADA system installation and integration.
---
---
Parkwood Area Storm Water Improvements located in Jacksonville, NC.
This project was to replace the storm water system.   Work includes adjustments to water 6″-8″ DIP 475 LF and sewer utilities 8″ DIP 4,600 LF, 12″-18″ DIP 494 LF, 93 MH'S, installing RCP piping ranging in size between 18″-48″ in diameter 9,162 LF and installing concrete box culverts sized 5'x2′. Included are all manholes, connections to existing piping, repaving streets, reconstructing curb & gutter, sidewalk and driveways, demolition, abandonment of pipelines and all other work required to complete the work.
---
---
CROSS-CITY TRAIL PHASE III, Wilmington NC
Construction of a multi-use trail from Randall Parkway to Mallard Dr. includes sidewalks and bicycle lanes for the City of Wilmington in coordination with UNCW and NCDOT. Work includes asphalt paving, concrete, erosion control, hauling, excavating, grading, pavement markings, traffic control, storm drain, signage, fencing, utilities, landscaping and irrigation. Includes 12″-24″ RCP Storm drain.
---
---
Carolina Cove Apartments, Wilmington, NC
Work includes clearing and grubbing, erosion and sediment control, tree protection, removal of existing underground utilities, site grading, excavation, retaining walls, filling and compaction, sanitary sewer, storm sewer, site water systems, curb & gutter, stone base and paving and pavement markings, pervious concrete
---
---
Union Station Parking Deck, Wilmington NC
Complete site work package including, earthwork, erosion control, site demolition including tree, concrete asphalt, water, sewer and storm drain removal.  Replacement and installation of drainage system with piping from 12″ – 60″, roof drain piping, temporary sediment basins, sewer and water. 60″ RCP STORM DRAIN 376 LF, 12″-36″ RCP STORM DRAIN 576LF, 4″-8″ CPP 1,580 LF, Construction of vehicular bridge.
---
---
Water Transmission Mains – Jacksonville, NC
Installation of approx. 80,000 ft. of 24″ – 6″ water supply transmission mains, potable watermains and concentrate lines. 30″ – 18″ Jack and Bores, 8″ – 6″ Horizontal Directional Drills, installation of an outfall diffuser structure with directional drill under a lagoon and creek into the New River.  Complete with all appurtenances and all associated site work.
---
---
O'Reilly Auto Parts Store – 5232 Carolina Beach Rd. Wilmington, NC
Our work on this project consists of demolition, clearing, removal of demo material, tree protection, traffic control, intersection improvements, erosion control, temporary seeding, construction entrance, all excavation, grading, cut/fill, import/export, fine grading, topsoil spreading, including curb backfill, all compacted subgrade, all asphalt work including drive aprons and intersection improvements, complete segmental block retaining wall including all backfilling,  complete storm drainage system including all storm structures, piping, pipe bedding, fittings and connections, storm water wetlands, roof drain piping and connections, rip rap, complete water and sewer installation.
Contract – $400K – $500k
---
---
Wal-Mart #4065 Super Center and Out Parcels at Bayshore Commons – 8701 Market Street, Wilmington NC
Complete Site Development including Demo, Clearing, Grading, Water, Sewer, Storm Drain, Landscaping, Fencing, Curb & Paving, Guardrails, Soundwalls, Retention Ponds Contract $8M-$8.5M
---
---
Cambridge Village of Wilmington – The Davis Community
Our work on this project included water, sewer, storm drain, concrete, keystone retaining walls, jack and bore, all earthwork operations and asphalt and pervious concrete paving, concrete sidewalks and curb and gutters.
Contract – $2.5M – $3M
---
---
Compass Pointe – Leland NC
Throughout Compass Pointe's different phases our work consists of Grading, Storm Drain and Structures, Water, Sewer, including a lift station, Irrigation, Conduits, placing stone, installing curb and gutter, sidewalks and asphalt including the turn lane on the west entrance.
---
---
Raw Water System Improvements for CFPUA from Wilmington to Rieglewood, NC
June 8, 2016
This project included the replacement or abandonment of 24 air release valves, isolation gate valves, vacuum relief valves, blowoff gate valves and misc. door repair or replacement for below grade structures. Replacement of flowmeter and surge relief valve at pump station, demo abandoned pump station and existing raw water piping and install new raw water piping and supports.
Contract – Just over $1M
---
---